RØDE Microphones is a uniquely Australian owned and operated audio company. RØDE has technology and precision manufacturing at the core of its values. Located in downtown Sydney, RØDE manufactures all their quality hardware in-house. Their state-of-the-art plant has over 60 million dollars in precision machinery.
RØDE employs an international team of more than 250 people across highly skilled disciplines. RØDE Microphones are sold in 113 countries, and growing. Making RØDE a truly global company.
RØDE's extensive range of on-camera microphones and accessories are the number one microphones in the category in the world. RØDE is making professional quality audio products available to a new generation of creators. Below is a small selection of microphones that are available from RØDE. Please contact us for more information. Or visit the RØDE Microphones website for a full list of their products
NT2-A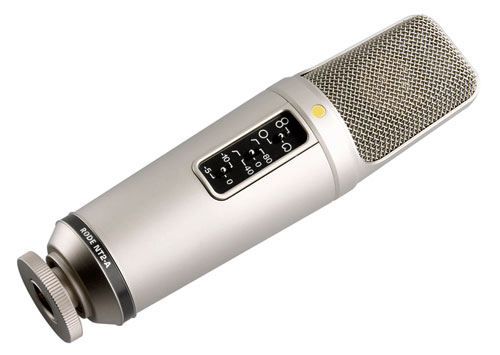 Multi-Pattern Dual 1″ Condenser Microphone
The NT2-A carries on the tradition forged by the now legendary RØDE NT2. A professional large 1″ capsule studio microphone incorporating three-position pick-up patterns, pad and high pass filter switches conveniently located on the mic body.
The frequency and transient response of this transducer has been voiced to complement today's modern recording techniques, and yet still evoke the silky smooth character of the legendary microphones of the 50s and 60s. These features provide the flexibility and superlative audio characteristics that make the NT2-A one of the most versatile condenser mics available.
Supplied with the SM6 shock mount, dust cover, microphone cable and downloadable instructional video hosted by Grammy-nominated engineer and producer John Merchant showing a range of recording techniques specific to the NT2-A.
The RØDE NT2-A microphone is designed and made in Australia, and covered by RØDE's industry leading 10 year warranty.
NT-USB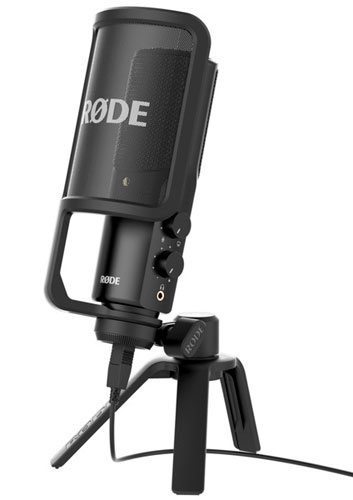 Versatile Studio-Quality USB Microphone
The NT-USB is a highly versatile side-address microphone that is ideal for recording singing and musical performances in addition to spoken applications such as podcasting and voice-over.
It is fully compatible with all mainstream recording applications on both Windows and Mac OS based computers, as well as the Apple iPad using RØDE Rec, GarageBand, or any other recording app that accepts an external microphone. Use on the Apple iPad requires a suitable USB connection adaptor, such as the Apple Camera Connection Kit.
The body of the NT-USB features a zero-latency stereo headphone monitoring (3.5mm) jack, which allows you to monitor the microphone input in realtime, along with dials to adjust the monitoring level and mix between the computer/iPad audio and the microphone input.
A premium pop-filter is included, which fits onto the base of the mic, positioning the filter the ideal distance from the capsule to minimise plosives (hard 'B', 'T' or 'P' sounds that produce a harsh sound) during singing or speech. Also provided is a high-quality stand mount with industry standard 3/8" thread, desktop tripod stand that allows the NT-USB to sit at a comfortable height on a tabletop, and a pouch for storage of the microphone when not in use.
Procaster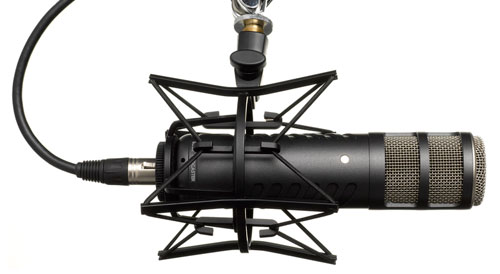 Broadcast Quality Dynamic Microphone
The RØDE Procaster is a professional broadcast quality dynamic microphone, specifically designed to offer no-compromise performance for voice applications in the broadcast environment.
Featuring a tight polar pattern and tailored-for-voice frequency response, the Procaster is perfect for every application where a great sounding, robust microphone with superior ambient noise rejection is demanded.
The Procaster features an internal pop filter, designed to minimise plosives sounds that can overload the microphone capsule and distort the audio output.
Its high output dynamic capsule and balanced low impedance output make it an ideal broadcast and voice over microphone.
The RØDE Procaster microphone is designed and made in Australia, and covered by RØDE Microphones' industry leading 10 year warranty.
VideoMic Pro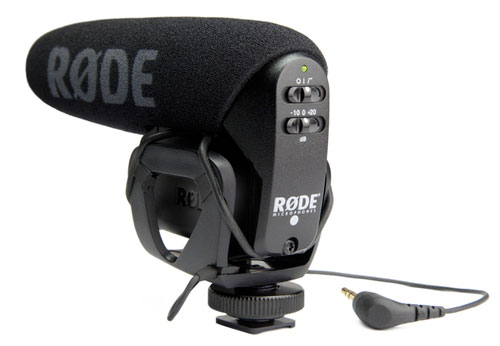 Compact Directional On-camera Microphone
The RØDE VideoMic Pro is a true shotgun microphone designed for use with camcorders, DSLR cameras and portable audio recorders as a source of primary and reference audio.
At the heart of the VideoMic Pro is an all-new 1/2″ condenser capsule that provides broadcast-quality audio via a 3.5mm minijack connector (outputting the mono signal to both left and right channels) with an incredibly low self-noise of just 14db. A super-cardioid polar pattern ensures that surrounding audio is minimised, and your recording is focused on the subject in front of the camera.
The integrated Rycote® Lyre® based shock mounting system separates the VideoMic Pro capsule and electronics from its mount, providing isolation from external physical factors that may cause unwanted rumble and vibrations in the microphone. Constructed from a single piece of hard-wearing thermoplastic, the Lyre® provides superior acoustic suspension to traditional elastic solutions, and will never wear out, sag or snap.
Easily accessible on the rear face of the microphone are the power, filter and level controls. In addition to the microphone's native 40Hz-20kHz response a selectable high-pass filter at 80Hz is available, which will prevent low end noise such as air conditioners and traffic from being recorded.
Below these controls are the level settings, which attenuate or boost the recorded level as required. The -10dB level attenuation (or PAD) is ideal for recording loud sound sources, such as live music, motorsport, or interviews where the subject is very close to the camera. The +20dB level boost is designed for use with DSLR cameras, allowing the user to reduce the camera's preamp level (or mic-input level), effectively reducing the amount of noise generated by the camera's comparatively low quality audio circuitry.
The microphone uses a standard sized shoe mount for on camera use, and features a 3/8″ thread in the base of the mount for easy boom pole mounting.
The VideoMic pro is battery powered, and provides over 70 hours recording from a single 9V battery.
The RØDE VideoMic is designed and made in Australia, and covered by RØDE Microphones' industry leading 10 year warranty.
RØDELink Newsshooter Kit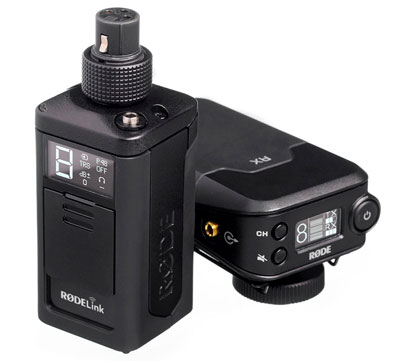 Digital Wireless System for News Gathering and Reporting
RØDELink represents the next generation of digital wireless systems. Using a Series II 2.4GHz digital transmission with 128-bit encryption, it is able to constantly monitor and hop between frequencies to maintain the strongest possible signal level at a range of up to 100 metres* (over 100 yards). The RØDELink Newsshooter Kit provides everything you need to start shooting video wirelessly with XLR microphones, including a camera-mounted receiver and an XLR transmitter. The receiver (RX-CAM) features an OLED display with information on level, battery status (receiver and transmitter), mute and channel selection. The unit can be mounted on a standard camera shoe mount, 3/8″ thread or belt-clip, and for added versatility the shoe mount can be located in one of two positions. The transmitter (TX-XLR) easily connects to handheld presentation microphones as well as shotgun microphones, with a 3.5mm input and headphone output.
* range estimations based on optimal environment