Meet the next generation of professional TriCaster systems.
The new lineup of professional TriCaster systems incorporates sweeping advancements in switching, mixing, recording, playback, automation, scan conversion, still-store, CG, virtual sets, visual design, encoding power, and more—enough to replace entire production suites in a fraction of the space, and to double or triple the capabilities of any live production.
TriCaster 8000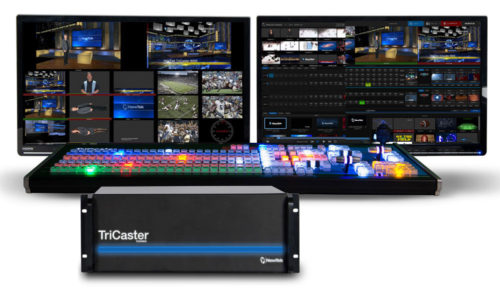 Visually stunning shows, of any scale.
With our largest set of multi-camera production capabilities and the most extensive integration with broadcast operations, TriCaster 8000 is the live video system equipped to handle anything: big live shows, incredibly sophisticated Web programs, and branded content for cross-channel delivery and multi-screen experiences. All in a turnkey solution.
More capabilities. More opportunities:
8-M/E, 24-channel video switcher with integrated audio mixer, media players, titles, graphics, and DVE effects
Router-extensible for virtually unlimited scalability
Robust I/O connectivity and networking
Mirroring with remote control of redundant system
TriCaster 460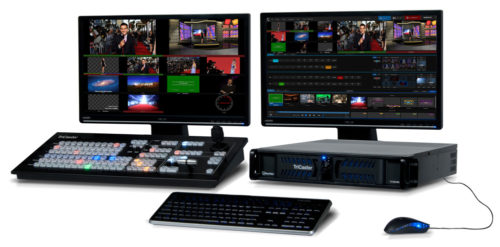 Network-quality programs, anywhere production takes you.
TriCaster 460 and 410 are all-purpose, 4-camera video production systems scaled for smaller racks and mobile units. From live and on-demand programs that look infinitely bigger to engaging social and second-screen experiences, create multi-platform productions to open up more revenue opportunities and extend your brand.
Revolutionize your moderate-sized shows with:
4-camera, 4-M/E 16-channel video switcher
Integrated audio mixer, media players, titles, graphics, and DVE effects
Versatile 2U rackmount frame
Either all-digital SDI I/O, or mix-and-match analog and digital SD/HD
TriCaster Mini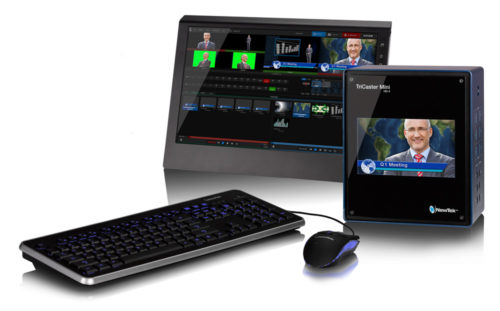 Make your ordinary presentations, extraordinary.
From the office, an event, or from anywhere… with TriCaster Mini, anyone using everyday camcorders can create and publish great video content in minutes, stream it live, and make even the smallest presentation captivate audiences like network-style TV.
You don't have to be a video expert, own a studio, lug any complicated equipment around, or use expensive professional cameras to make great content quickly and stream it live in minutes. With everyday camcorders and TriCaster Mini, anyone can make a show with professional results.
Top Features:
Create your own great multimedia content
Fast, straightforward, and easy to set up
All-in-one studio-style system
Most-complete creative toolset available
Sized to make and stream content from anywhere
No need for professional crews or expensive equipment
HDMI and SDI options available
3Play 4800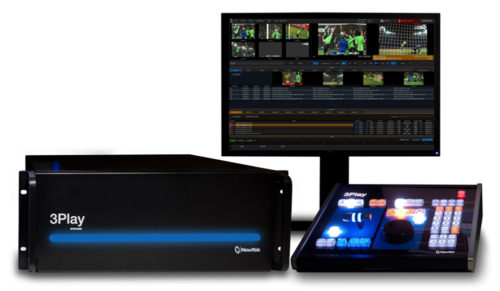 Award-winning production for pro leagues and large venues.
3Play 4800 is the most complete sports production solution available, integrating multi-camera capture, instant replay, in-show highlights, and dramatic slow motion into one turnkey system. Engage in-house fans, online viewers, social media followers, and broadcast audiences with greater ease and simplicity—with incredible savings on equipment investments.
Add dramatic production value with:
8-camera capture and 2-channel delivery for producing large events
A built-in overlay and effects engine to pump up the visuals in real time
Up to 60% cost reduction vs. traditional replay systems, supplementary production equipment, operator costs, space, and resources
The most flexible and customizable set-up, operation, and programming potential available
3Play 440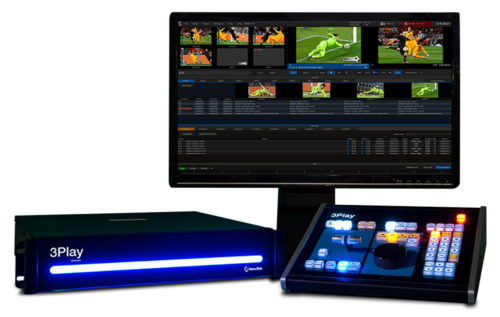 Stellar creative capabilities for mid-sized productions.
The most complete sports production solution sized for mobile, 3Play 440 provides regional broadcasters, colleges and conferences, trucks, and mid-size venues with greater creative freedom to produce events with spectacular slow motion, instant replay, in-game highlights, and social media sharing. Take local events directly to the video board—or to audiences anywhere.
Deliver more than instant replay with:
4-camera capture, 2-channel delivery for advanced production of mid-sized events
Built-in overlay and effects engine, reduces need for external graphics
Entire suite of sports capabilities built in, eliminating expense for extra production equipment and reducing crew costs, space, and resources
Up to 75% cost reduction vs. traditional replay systems
Compact 2RU rackmount form factor
TalkShow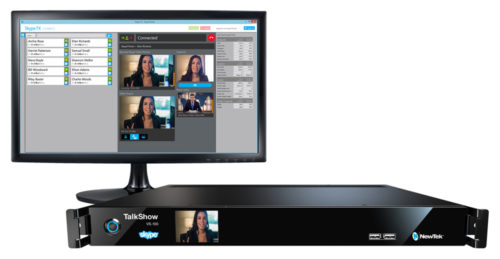 Live Skype interviews that look great—and sound amazing.
The live interview. It's the most compelling aspect of a newscast, entertainment show, sporting event or webcast. Great remote guests will make your shows more engaging, but only when they look and sound as good as their perspective.
TalkShow VS-100 is a video calling production system designed for television studios and live event producers. Transform every Skype video call with higher video and audio quality to deliver a great production to your audience.
FEATURES:
TalkShow is a 1RU broadcast ready, integrated hardware and software system that includes:
Studio-grade Skype TX software
Dual channel Ethernet connectivity
2 channels (1 in, 1 out) of HD-SDI I/O
Professional XLR and SDI-embedded audio
Full proc-amp controls and automatic color correction
Audio compressor/limiter, graphic equalizer, and adjustable head-room controls
Tally support
Broadcast, stream, publish, project, and record – simultaneously.
The most complete multi-camera video production system on the planet.