Since 1979, Logitek has been an innovator in broadcast audio. The first in North America to offer a router-based digital console, Logitek today makes Networked Audio Consoles that run on Audio Over IP technologies. Logitek designs and manufactures products for the broadcast and pro-audio industry. They design and develop their digital products in house and rely on local manufacturers for cost efficient fabricating according to specifications. Final assembly and quality control are done in house before shipping.
International customers include the major US TV networks CBS and NBC; cable networks CNN, ESPN, The Disney Channel, HBO, TCI and Prime Star Division, DirecTV. In Hollywood, Lucas Film, Sony and Warner Brothers use Logitek equipment.
About Logitek Australia
Logitek Australia (a division of OnAir Solutions Pty Ltd) was formed in 2007 to distribute Logitek Electronic Systems (US) in Australia and to assist Logitek Electronic Systems (US) with sales and services in the Asia Pacific Region.
Logitek Australia builds on skills and knowledge of Logitek systems dating back to 2001, and is recognised by Logitek Electronic Systems (US) as the leading dealer in the world. In fact, Logitek Australia is the only dealer to be licensed to use the Logitek name and logo.
Our staff have been involved in many Logitek system deployments, including an 8-Engine system at Sport 927 in Melbourne, a 3-Engine system at SKY Sports Radio and many regional stations. Key personnel were involved in the first Logitek installation for ABC at Ballarat in 2003. Many years later that detailed knowledge is still on-board providing a high-level of customer service and support.
Logitek Audio Engines and Control Surfaces
JetStream Mini

The JetStream Mini is an integrated console engine and AoIP routing platform. It handles console functions as well as audio routing duties. One JetStream Mini can handle up to 128 digital or analog inputs/outputs of your choice. It includes 24 mix-minus busses (assignable to any fader of any Logitek console connected to the router); 9 program busses; 32 channels of stereo audio shared between 1 to 3 Logitek consoles; EQ and dynamics processing assignable to any fader; fader input metering with audio level alarms; smooth digital mixing and triggering. StudioHub+™ inputs may be directly connected; breakouts are also available for DB25, XLR, BNC (digital I/O) and punch blocks.
Direct network transfer of audio from hard-disk playout systems is available via the JetNet network conduit.
The JetStream Mini offers seamless interoperability with many video routers, edit systems (D/ESAM) and program automation control systems.
JetStream Plus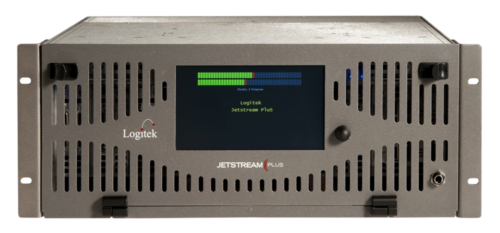 The JetStream Plus brings Logitek's Dense Node Architecture to the forefront with 240 channels that can manage audio networking while minimizing Ethernet complexity. Fifteen card slots are provided for analog inputs, digital inputs, analog outputs, digital outputs, SDI inputs and microphone preamps. A drop-down front panel makes it easy to access cards, and redundant power supplies ensure robust performance.
Up to three Logitek consoles (a total of 36 faders) may be operated via a single JetStream Plus. The unit also handles routing, mix-minus generation, profanity delay, audio processing and other essential audio functions. A touch screen on the front panel provides easy access to meters, controls and status functions.
Ultra-high-density I/O in only four rack units
Supports the latest IP and Ethernet protocols
12 GPI inputs and 12 GPI outputs (on 2 DB-25 connectors)
24 mix-minus busses
Embedded microprocessor for operation of system and Logitek virtual applications
Direct network transfer of audio from hard-disk playout systems via JetNet network conduit instead of sound cards
Interfaces to popular TV program automation control systems
Smooth digital mixing, one-button triggers, multiple busses
Pilot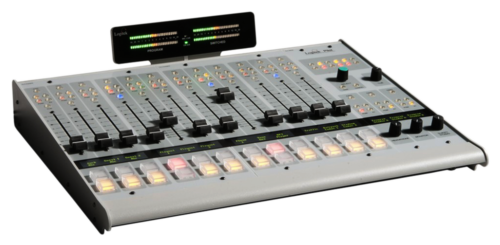 Our most economical console, the Pilot offers a simple 'learning curve' for novice operators while providing a suite of controls that experienced operators will enjoy. Available in multiples of six faders (from 6 to 18), the Pilot offers full access to the sources available on a JetStream or Audio Engine along with simple bus selection and intuitive monitor controls. When combined with the JetStream Mini AoIP platform, the Pilot provides a cost-effective way for your facility to implement IP audio routing and mixing. The Pilot is housed in an attractive desktop frame that can be easily moved out of the way when not needed.
ROC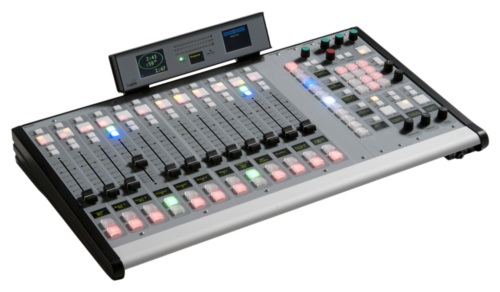 Designed to handle any studio situation, Logitek's ROC digital audio console brings easy operation, durable construction and the flexibility of AoIP to control rooms, production rooms and news booths. Available in multiples of 6 faders (up to 24), the ROC is housed in an attractive tabletop enclosure with 1/4″ and mini headphone jacks mounted on the front rail. The product features high quality Penny & Giles faders, OLED source indicators and meters, and a suite of controls for leveraging the power of the JetStream platform.
Mosaic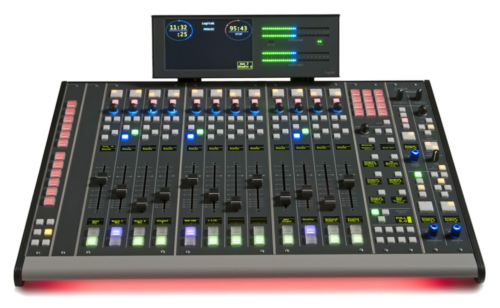 Powered by the Logitek JetStream AoIP Audio Networking platform, the Mosaic is presented in a streamlined, desktop-friendly design that allows you to move the board out of the way when not needed. Consoles are available in sizes ranging from 4 to 24 faders, with 2 options for meter bridges. Bright, easily read OLED screens are used throughout for source identification and confidence metering; illuminated rotary controls and programmable backlighting for on/off and selector buttons allow custom color-coding for operators and easy operation in any type of studio lighting.